February 2015 National Safety Passport
We have again used the National Safety Passport scheme with EMSS for another two years.
January 2015 Recertified for compliance with ISO9001:2008
Once again we have been successful in being re-certified for our Quality Management System being fully ISO9001:2008 compliant.
Our new certificate can be seen here.
March 2014 designed, built, installed and commissioned door test cell at Fireco Ltd
SMES Ltd was commissioned to design and fit a system to open fire doors in test cell so that the clients automated closers could close them. The cell contained 4 half size and one full size fire door. The system is pneumatically operated and the sequence fully programmable.
Tom Welland Conformance Manager of Fireco said:
"We contracted Sussex Mechanical Engineers to assist us with designing a bespoke automatic door opening testing rig. Fred worked closely with our Mechanical Engineering team and with his knowledge and experience we achieved something better than we thought was possible. Sussex Mechanical Engineers have facilitated us building an effective, efficient and above all safe machine. With their assistance our output for testing has significantly increased allowing us to reach our KPI's quicker and with a more suitable reporting method."
The unit is shown below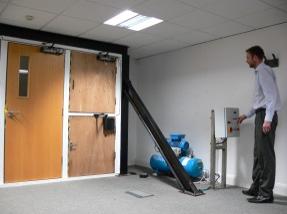 December 2013 re-certified for ISO9001:2008
SMES Ltd has been audited and we are happy to say we have been re-certified! Our focus on customer requirement and going that bit further has been recognised as a major plus, not just good for a certificate but great for us and our clients!
Win, Win, Win!
November 2013 Fixture ready to go to automotive sector
Finished and shipped a fixture for the production of gearbox castings. The fixture is to allow the finishing of raw die castings for a major automotive client. the fixture is designed to clamp the casting and give access to removal of flashing and cleaning operations on multiple faces.
August 2013 Our second year with Croydon College
We have just completed our second summer shutdown inspection and audit. We now look after 95 of their machines in 7 workshops.
March 2013 Lhoist Uk
we have started working with Lhoist Uk Ltd, they supply Lime and dosing systems to sites on the south coast. Based in Buxton Derbyshire Lhoist Uk have contracted SMES to respond to issues on these southern sites and where required make recommendations for improvements and install on their behalf.
See what they say on our Testimonials section
24/01/2013 Sussex Mechanical Engineering Services Ltd Gains ISO 9001 certification
With pleasure we can announce that SMES Ltd have been certified to be compliant with ISO9001:2008!
Our management systems have been independently assessed to exceed the requirements of the Quality Management standard accepted around the world.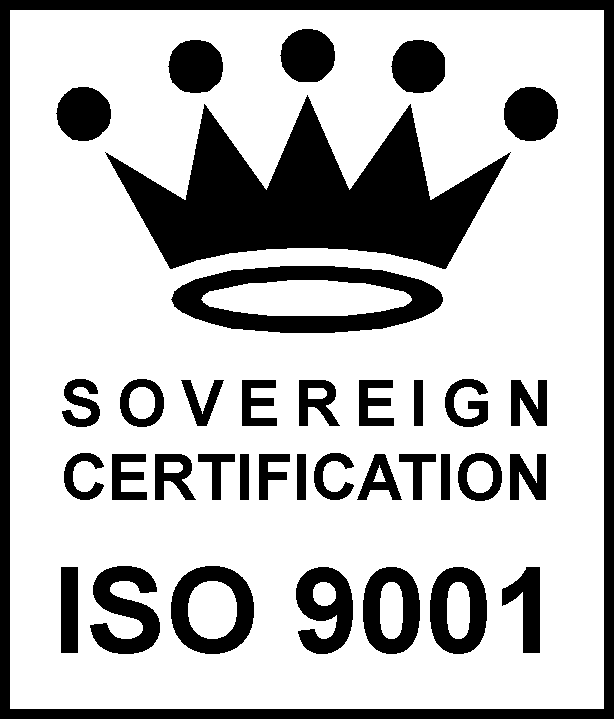 20/11/2012 GMK Ltd
GMK's objective is to establish the best range of guns and country sports accessories available in the UK. The company has been the leading UK shooting sports distributor for many years. Our product range includes brands which are the market leader in their particular field, and others which are produced by some of the best manufacturers in the world. They have workshop machines used for the repair and maintenance of the firearms and wanted to have these machines checked over and serviced. SMES serviced the SAJO Mill and Colchester lathe and made recommendations for guarding upgrades.
16/10/2012 Scaglia Indeva Ltd
Scaglia Indeva Ltd manufacturers of manipulation equipment for high end aerospace and automotive manufacturing companies have engaged Sussex Mechanical to conduct service operations in the south on their behalf. Living proof of our concept of subcontract engineering working to reduce travelling costs and reaction times.
20/09/2012 Croydon College Machines
Apparently there has been some nice weather during August and early September!
We have just completed a full maintenance and condition audit of the machines in the Croydon College workshop, as the workshop is in the basement we didn't get much sun this summer!
We conducted a full strip out, clean and adjustment programme, making repairs as we went, in line with our servicing and auditing programme. We have been able to leave their machines fit and healthy for the new college year and a full report for the college staff to give them the confidence that their students are using machines fit for purpose.
Just one of the ways SMES has tailored a maintenance package around our clients specific requirements.
12/03/2012 I hope you can help!
Saturday morning 11:00am, the telephone rings and Trevor says, I "hope you can help!". He has an old cast iron Guillotine that has jammed, solid. I travel to site and part the shafts to release the jammed gear, below you can see what happened. Long story, cut short, removed the gears and the now loose teeth and re-timed them to avoid the gaps! This allowed production to continue until a replacement can be manufactured.
10/01/2012 SMES Working with Ensys Tech
SMES working with our partner company Ensystech on their waste paper trim and extraction plant, Trinity Mirror Watford.
The rotating filter screen valve seperates the paper fragments from the extracted air stream after some years of use the screen needs to be removed and repaired, new sealing rubbers were also fitted.
2/12/2011 SMES Adopts National Safety Passport
SMES have adopted the use of the National Safety Passport to show that we have passed the national minimum standards test of Health and Safety legislation to work on our customer sites. It is our aim to provide our customers with personel with the latest Health and Safety training available, this scheme covers each worker and their file is viewable on line by our customers for any checks they may require.
We decided to use the National Safety passport as part of the EMSS scheme because they allow our customers to check the holder's status online, they have great portability, the course and the way it is delivered is exemplary.
The HSE INDG381 compliant Safety Passport program includes the nationally recognised EMSS Safety Passport card which can be validated online for authenticity. This will exceed employer's mandatory requirements to provide safety, health and environment (SHE) training at a fraction of the cost associated with more traditional safety passport schemes.
Why not take a look at their sites.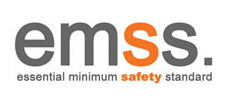 Or perhaps download and take a look at their literature and articles,. the core syllabus is a good comparison for the approved passport schemes.